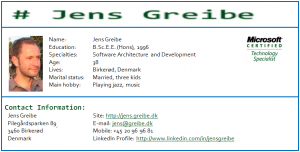 As a software engineer, I have worked in the software industry as team player, team leader and consultant for more than a decade. This has given me expertise and knowledge of all aspects of software development, the applied technologies, processes and principles. I have worked with a broad range of platforms and technologies.
Currently I am working with a project for the financial sector; an enterprise solution based on technologies such as WPF, WCF, Enterprise Library and Oracle.
My Curriculum Vitae is available on this site and can be downloaded as a PDF from the download section.